Unlock Endless Hours of Uplifting Adventure
Enjoy an ever-growing library of ad-free audio adventures, podcasts, live videos, home activities, and more!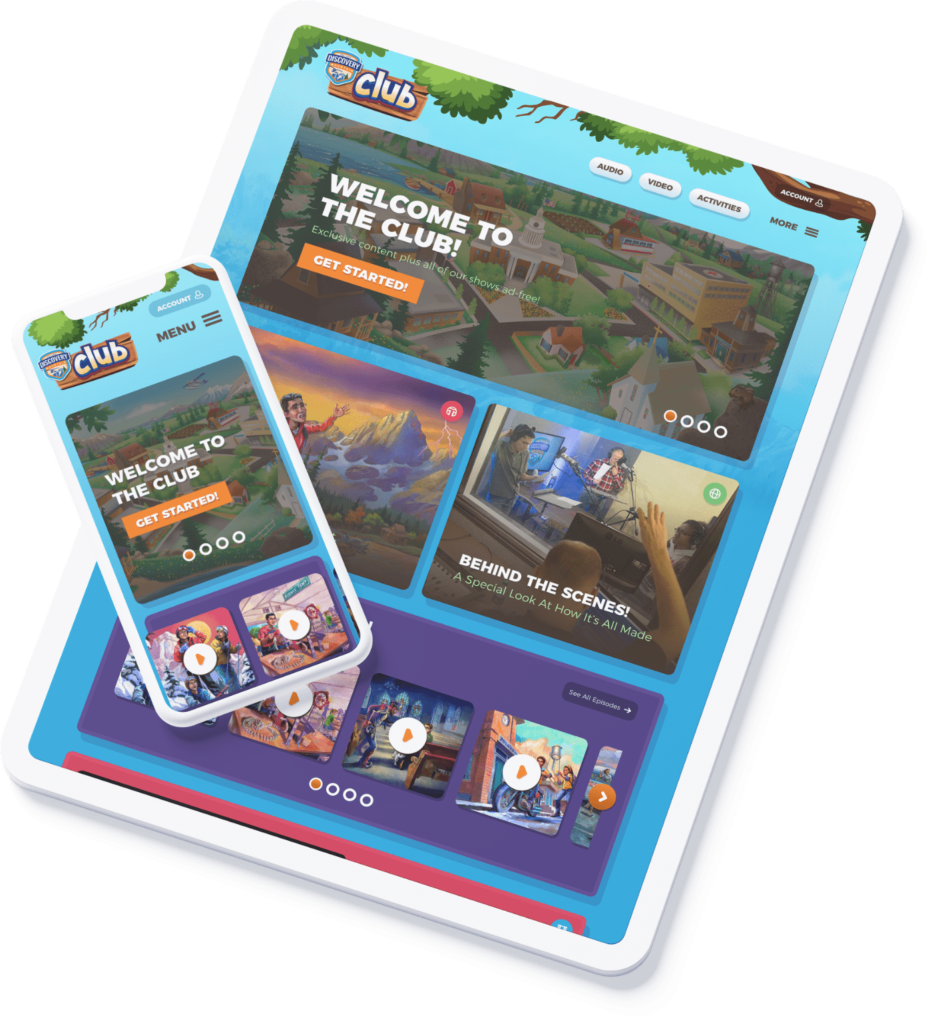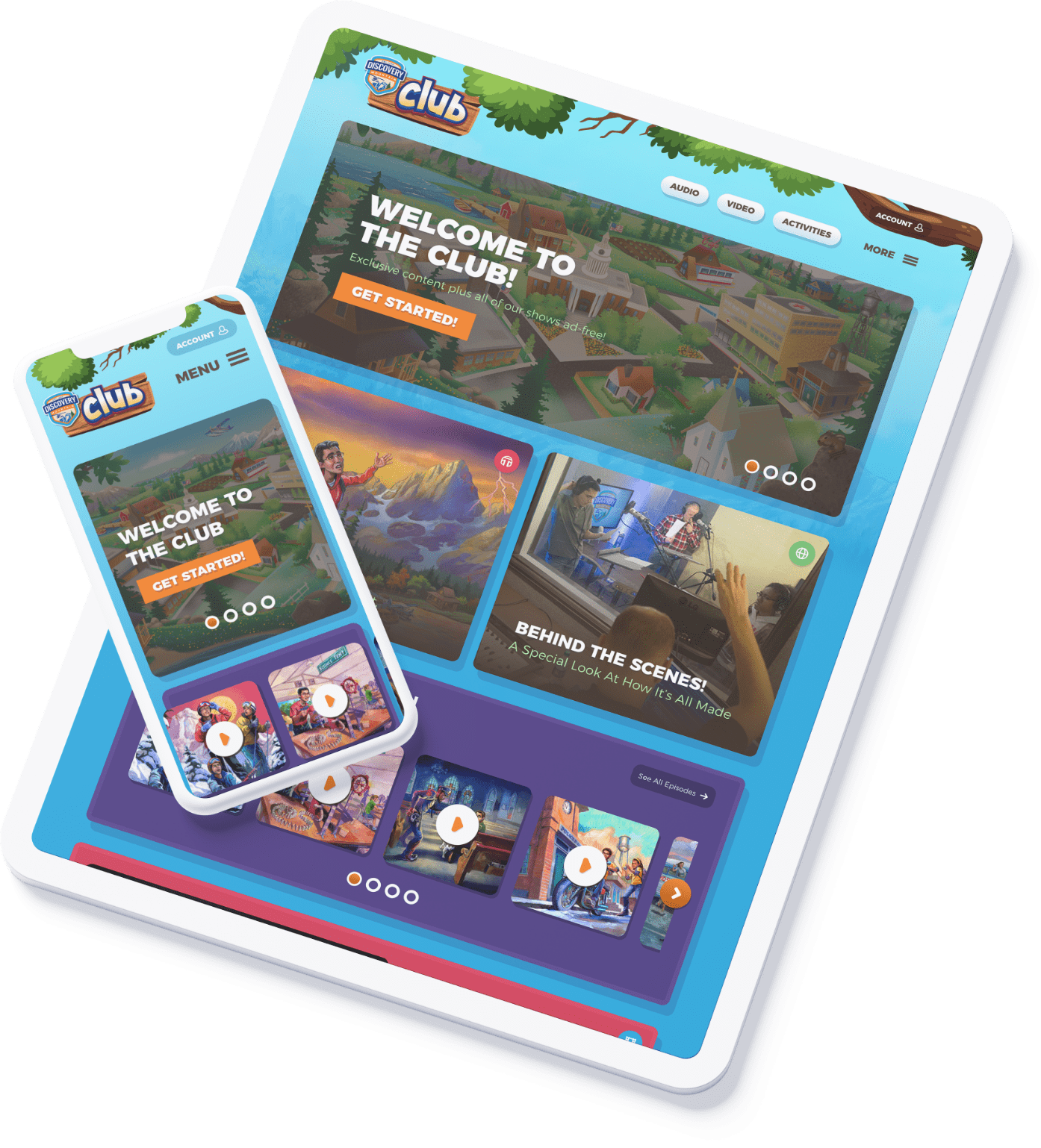 There's so much to Discover here!
From exclusive audio content, to early-bird ad-free access to our latest episode, Mountaineers will find a near endless list of reasons to love the Discovery Mountain Club!
pricing

options
Three great

FEATURES
Exclusive Bonus Content
Gain access to a growing library of content only for club members. Including podcasts, live video, blogs, activities and more!
Ad-Free Listening
Enjoy listening to your favorite Discovery Mountain content without the interruption of ads.
Pick Up Where You Left Off
Didn't get to finish that episode? No problem! The club lets you pick up where you left off on the device of your choice.
Five Exclusive Podcasts
Skip this section
Jake's Take

An Oddcast You Can Trust

Tune in as Jake discusses the inner workings of his world within Discovery Mountain and shares conversations with his fellow Discovery Mountain characters.

Writer's Cut

Club-Exclusive Podcast

In this podcast for moms and dads, join Ms. Jean as she visits with Christian writers and discusses the themes, personal experiences, and Biblical insights that have guided their writing.

Listen Up!

Club-Exclusive Podcast

Here's the place to hear YOU on the podcast. In each episode of Listen Up!, Producer Steve will showcase reactions from our listeners. Tune in and find out what makes Discovery Mountain special to people like you.

Bedtime Bible Stories

Club-Exclusive Podcast

Join Ms. Jean as she reads classic Bible stories that will inspire your faith and get you into the right mindset as you finish your day.

Expeditions in Faith

Club-Exclusive Videos

Every week, tune in for special new video content, including live-action and behind-the-scenes content.
Frequently Asked Questions: Learn what's involved with becoming a club member.
Instructions: This is an accordion. The TAB key selects a question. For the answer to the question, use the RETURN key followed by the TAB key.
1. Will I still be able to listen to weekly Discovery Mountain episodes for free after the Club launches?

Yes! We created Discovery Mountain for all families to listen to and exercise their faith along with us. The weekly episodes and mini-adventures will be available at no charge like they always have been! You will notice more ads in the episodes in the coming weeks, but the episodes will continue to be free to listen to on-demand.

2. What are Club members called?

Our Discovery Mountain Club members are called Mountaineers. We hope that you join us and become a Mountaineer!

3. Will there be new things to watch and listen to in the Club?

Yes! There are several new Club-exclusive audio programs. These include Jake's Take: An Oddcast You Can Trust, Bedtime Bible Stories, Listen Up! and Writer's Cut. Mountaineers will also be able to watch videos that aren't available anywhere else. There will be something new in the Club every week, and additional audio and video programs will be added in the near future!

4. How do I get into the Club?

The hub of the Discovery Mountain Club will be online, on a dedicated Club website. After signing up, Club members—Mountaineers—will receive a member number and password. Mountaineers will then use that information to log on to the site, where they can access exclusive Club content. The Discovery Mountain Club is open to anyone who agrees to the terms when signing up.

5. Are there any special rewards for being a Club member?

Yes, definitely! There are plenty of rewards for our Mountaineers. These include:
– Early access to Discovery Mountain episodes. Mountaineers can access episodes in the Club a day before they are posted on the main Discovery Mountain website or on podcast platforms.
– Listening to Discovery Mountain episodes ad-free!
– Access to Club-exclusive podcasts like Jake's Take: An Oddcast You Can Trust, Bedtime Bible Stories, Listen Up! and Writer's Cut
– Access to exclusive videos like our live-action "Expeditions in Faith" series
– Exercising our faith together! Mountaineers help make the main Discovery Mountain program free for all families and help us create new programs. Our ministry is a shared faith journey.
– Supporting the humanitarian work of Child Impact International. Mountaineer contributions help provide school supplies for children in Bangladesh.
– With much more to come—more Club rewards and perks are in the works, so stay tuned!

6. How much will the Discovery Mountain Club membership cost?

Discovery Mountain Club membership is $4.99/month or $49/year per family living at the same address. The cost of membership allows us to keep the main Discovery Mountain program free for all families. It also allows us to help children in Bangladesh with much-needed supplies for school through Project Raj.
End Frequently Asked Questions Section